2022 Magnum Bikes Year In Review
This was an incredible year for our team, our brand, and our lineup of e-bikes. We've had so much fun meeting more of you, introducing people to Magnum Bikes or even to electric bikes for the first time, and growing our brand.
So please join us as we take a look back at the best things we did this year!
Q1: January Through March
We heralded in the new year with plenty of events and an exciting product launch.
Magnum Bikes Attends CES
January began with a bang as the Magnum team headed to Las Vegas, NV to attend the Consumer Electronics Show (CES). The show featured an outdoor track for attendees to test-ride electric vehicles, including e-bikes.
Local Events: The RV Show and The Boat Show
Our next few events were closer to home. February brought the 2022 Utah Sportsman's, Vacation & RV Show as well as the Utah Boat Show & Watersports Expo.
Anywhere you can take an RV, you can bring your e-bike! Ride the trails while you're camping or get to know a new town at your next stop.
And when you're taking the boat to a neighboring city or nature destination, you can't bring your car on the boat! Bring your e-bike for a fun way to explore.
Product Launch: Peak T5
In March, we welcomed the Peak T5 to our lineup. Its powerful 15Ah battery, wide-range drive train, and powerful 500W motor made this Mountain E-Bike a standout item.
RideReview.com raved about this release, stating,
Magnum has never come out with a bad design or an electric bike that does not have a ton of great features. This Magnum Peak e-bike confirms that yet again – the Peak T5 is affordable, feature-packed, and excellent for riding on off-road trails, around the city, or anywhere else you would like.
But this wouldn't be the last release you'd see from our Peak Series in 2022…
Rugged suspension and long-lasting range make the Magnum Peak T5 your perfect e-bike for trails, mountain rides, and so much more.
Q2: April Through June
Spring brought some new beginnings for the Magnum Bikes brand. New launches, new events, and new friends!
New Website And A New Store
In May, we launched the brand new MagnumBikes.com. Refreshing our website was a labor of love; our improvements focused on creating a better user experience for shoppers and owners alike. Our store is now easier to sort through, and we're putting out more content than ever!
We also celebrated the grand opening of our new Magnum Bikes store in Park City, Utah! Expanding our brand and our dealer partnerships would be a theme for the year, creating more opportunities to grow the Magnum community.


Introducing The Peak T7
We also launched the Peak T7, our second Peak Series launch of the year. It's all the robust mountain e-bike action you already loved about the Peak T5, but with a bigger battery, larger motor, and greater range.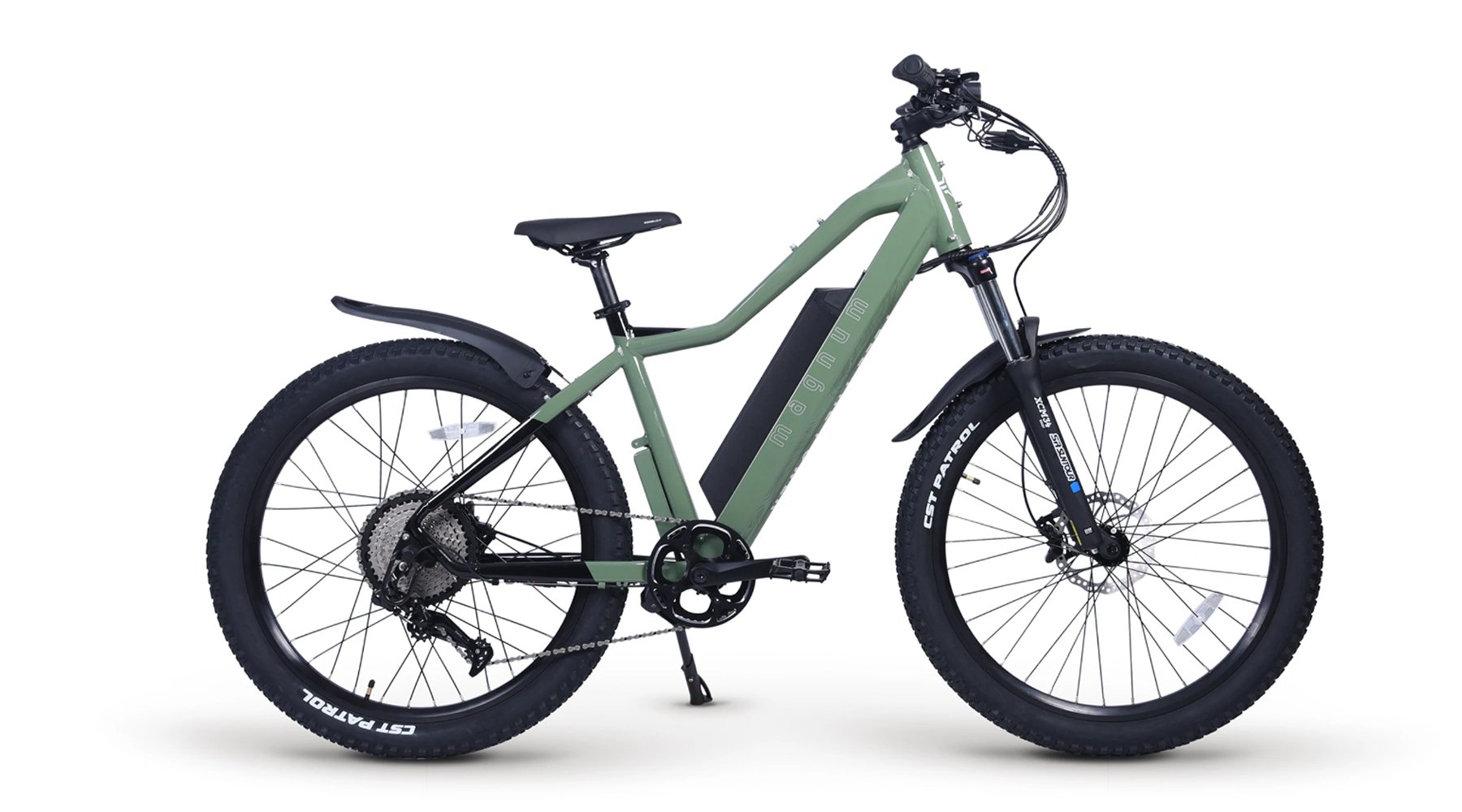 The all-new Peak T7 in Forest. Can you hear the trails calling…?
The Sea Otter Classic
In April, we headed up to Monterey, CA to attend the Sea Otter Classic: 4 days of cycling including racing, tours, and more. We joined the expo to share our love of e-bikes with regular bike enthusiasts and e-bike fans alike.
Electrify Expo Season Begins
We kicked off Electrify Expo 2022 in Long Beach, CA. So many of you came out to test-ride our latest models and soak up the sun in June. The weekend marked a fun start to an incredible expo season.
Local Events: Bike to Work Day, A Visit From Mayor Mendenhall, And 999 Ride SLC
On May 20, we celebrated Bike to Work Day. Of course, when you're a brand making e-bikes that are so much fun to ride, pretty much every day is Bike to Work Day. Will you join us in 2023?
We were also honored to get a springtime visit from SLC Mayor Erin Mendenhall at our flagship store. See you on the trails, Mayor Mendenhall!
Summer saw a resurgence of the 999 Ride, a casual weekly ride through Salt Lake City. Bikes and e-bikes alike are welcome! If you decide to join one night, you might spot some of the local Magnum Bikes crew.
The Magnum Salt Lake City crew with SLC Mayor Erin Mendenhall (L – holding the dog!).
Q3: July Through September
While you can ride your e-bike through all 4 seasons with proper preparation, summer is made for e-biking! And for us, this summer was all about events and launches to share our favorite bikes with you.
Electrify Expo Keeps Rolling
We hit 2 more Electrify Expo events in the summer: Seattle and NYC. We met more incredible e-bike enthusiasts as well as those new to electric bikes. You all really put our e-bikes to the test on the demo track!
Local Events: Antelope By Moonlight, Golden Hills Park, and Outerbike Moab
July brought the return of Antelope By Moonlight, an incredible group ride here in Utah.
And in August, we joined a community effort for e-bike awareness in Cottonwood Heights, UT. Our team met the locals and gave out test rides around the park.
Next, we hit the desert for a stormy first attendance at Outerbike Moab. While we were the only e-bike company at an event geared toward mountain bikers, people really took notice and gave us a chance!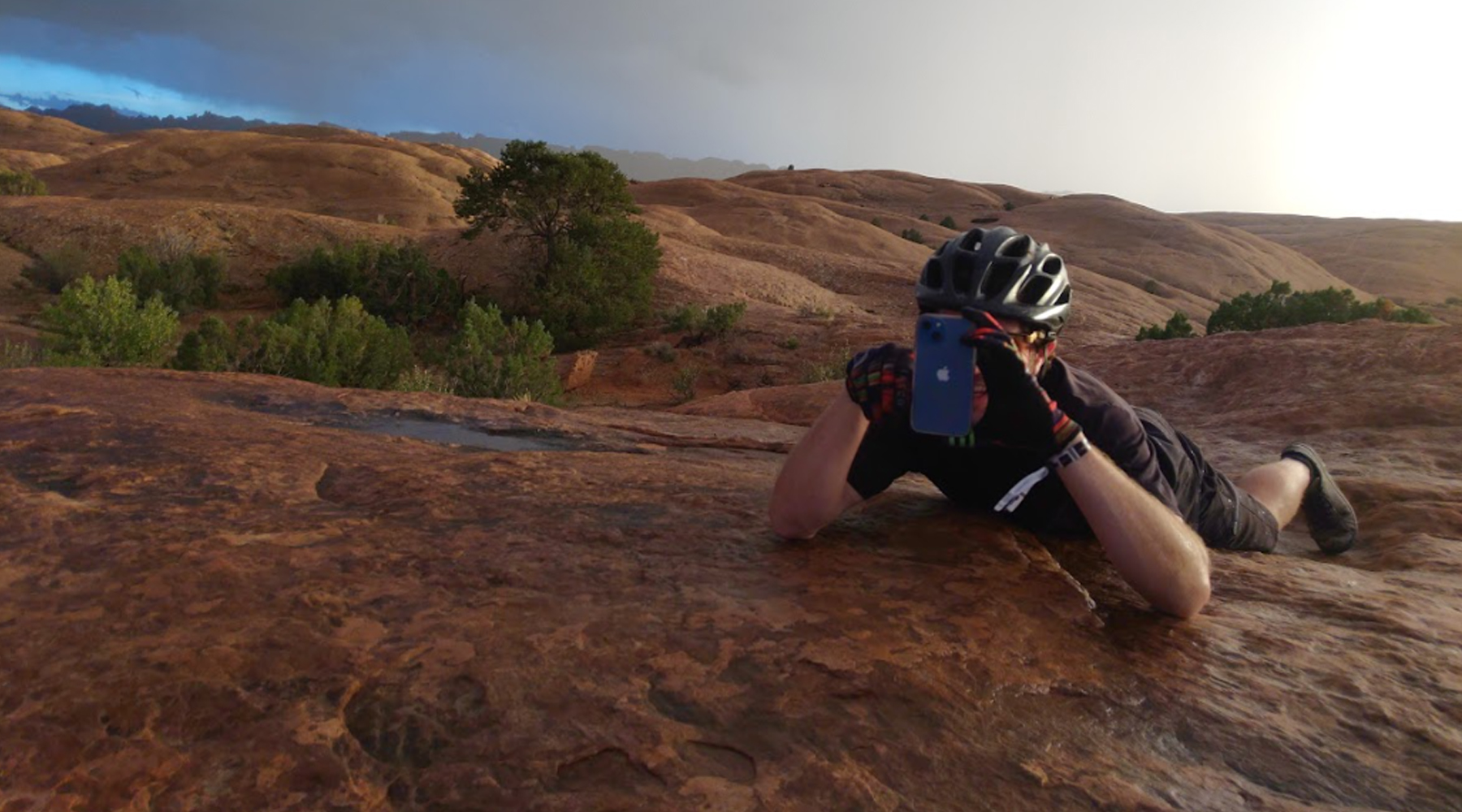 The weather was a little dramatic at Outerbike Moab, but that didn't stop us from having a ton of fun!
Introducing Our Premium 3 Folding E-Bikes
In September, we unveiled our new line of folding e-bikes — the Premium 3 series. This launch included both the Premium 3 High Step and Premium 3 Low Step to accommodate a wide range of riders. Perfect for apartment storage, easy trunk transportation, and more, we love these folding e-bikes!
Q4: October Through December
The end of the year brought the end of expo season, but some new beginnings, too.
Electrify 2022 Comes To A Close
We closed out the 2022 Electrify Expo season with incredible weekends in Miami, FL and Austin, TX. It was a blast spreading the word about e-bikes and other incredible EVs all summer long, and we can't wait to do it all again next year. The Electrify 2023 schedule is out now!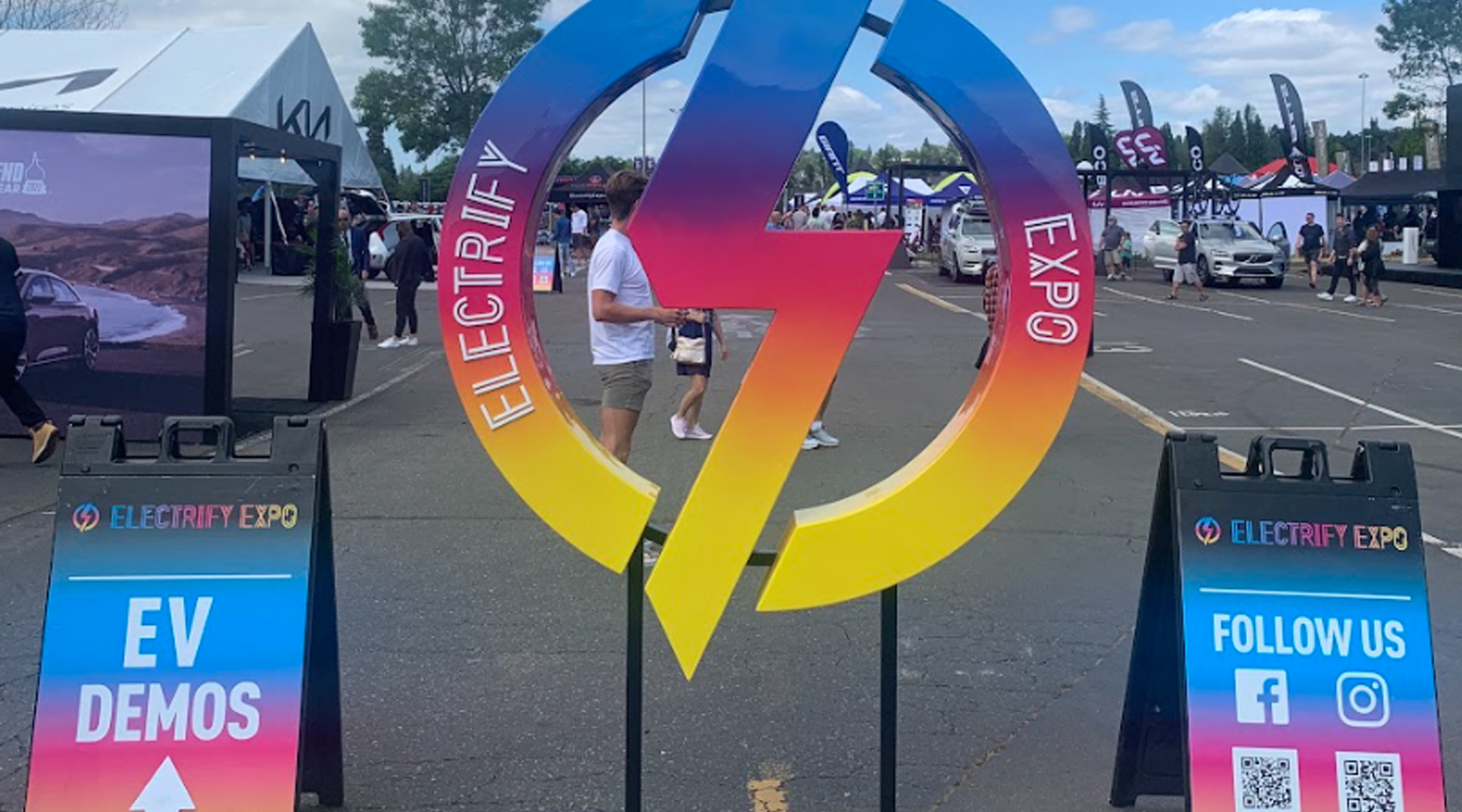 Will we catch you at Electrify Expo 2023? Photo by the Magnum Team at Electrify Seattle 2022.
Grand Opening Of Our First AZ and CA Stores
Joining the Magnum family of stores, we celebrated our Scottsdale location's grand opening in October — our first branded store outside of Utah. That same month, we opened a store on the coast in Encinitas, CA.
We're passionate about growing the Magnum Community, not only through our new stores but through our network of dealers all around the country. We're so excited to welcome you all to our new stores.
End-of-Year Deals
We kicked off the holiday season with our biggest Black Friday sale ever! Later, we launched a fun holiday gift guide for the current or soon-to-be Magnum owners in your life.
Did you miss out on those deals? Sign up for our email list to be the first to know about future sales, product launches, events, and more.
Looking Ahead To 2023
We've got a lot up our sleeves in the coming year. Let's just say that if you enjoyed our product launches this past year, you're in for a treat in 2023 … stay tuned, and Happy New Year!