Magnum Bikes Gets A Visit From Salt Lake City Mayor Erin Mendenhall
As part of Small Business Week 2022, we were lucky enough to host Salt Lake City Mayor Erin Mendenhall at our SLC location this spring.
Magnum COO Jesse Lapin had a chance to speak with Mayor Mendenhall and share how Magnum Bikes became integrated into the SLC community.
Jesse explained that Magnum briefly considered launching in Los Angeles due to the accessibility of being a port city. But as the founders continued to look around, Salt Lake City stood out as the right choice.
"Few things are more Utah than an electric bicycle," Jesse said. "You have technology and you have the outdoors. And electric bikes bring both of those sectors together."
Mayor Mendenhall agreed with us there.
"We are a community that loves to play," she said. "We are prioritizing bike lane creation and air quality is such a focus of ours that [e-bikes are] a solution, not just from a recreation aspect, but quality of life. A growing city needs to get people out of cars."
We can feel this support from Mayor Mendenhall and our local community in so many ways. For example, Salt Lake City's Facade Improvement grants recently helped us add some polish to our SLC store, including new signs and fresh paint.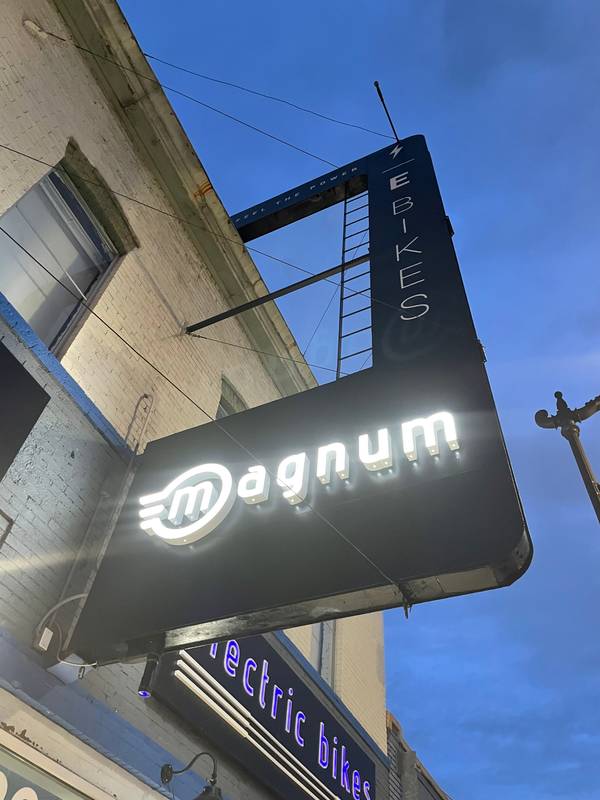 New signs shining brightly at Magnum Bikes in Salt Lake City.
"We're excited to be here; we're not going anywhere," Jesse assured the mayor.
"Good; we love working with you!" Mayor Mendenhall agreed, before asking the question we were all waiting to hear: "Shall we pedal?"
After our interview, we got to take the mayor out for a spin on a Magnum Cosmo X. We jumped straight onto a local bike path near our shop for a fun ride.
Please come back anytime, Mayor Mendenhall! And as for the rest of you: we hope to see you at one of our stores or dealers soon.
Watch the Video