E-Bikes NYC: Where Can I Ride?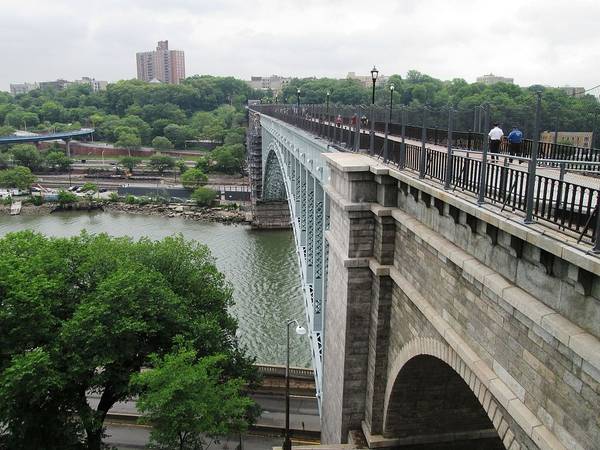 Why We Love It
Some days you want a nice leisurely ride. But when you're looking to hit the trails harder and conquer tough terrain, check out Highbridge Park.
Located on the west bank of the Harlem River, this 130-acre park offers a good mix of beginner, intermediate, and advanced trails.
If you're planning to hit the most challenging trails, be sure your e-bike is up for the challenge! Check out Mountain E-Bikes for reliable suspension and superior handling.
When To Visit
Highbridge Park is open 6:00 am to 10:00 pm year-round, though facilities within the park may have different hours.
Which E-Bike Classes Are Allowed?
We didn't find any listed e-bike restrictions for Highbridge Park. Just obey all posted signs!
Central Park
A beautiful day in Central Park. Image Source: Unsplash
Why We Love It
Of course, Central Park is a classic tourist destination. But it also offers locals a welcome reprieve from the bustling traffic of their everyday commute.
If you're there for leisure, you can visit the Central Park Zoo, the Metropolitan Museum of Art, and other iconic stops. Don't forget to refuel at one of the many food carts and cafes.
When To Visit
Central Park is open all year round! The park is open almost around the clock, too, but it's closed from 1:00 am to 6:00 am daily. Facilities inside Central Park may have their own hours.
While Central Park is patrolled by both the NYPD and Parks Enforcement Patrol, park authorities advise against visiting the park after dark, particularly if you're alone.
Which E-Bike Classes Are Allowed?
There are no e-bike class restrictions in Central Park, but riders must obey the following rules:
Pedestrians have the right of way everywhere in Central Park

No riding on pedestrian-only paths (shared multi-use paths ok)

You must ride counter-clockwise on outer park loops

Maximum speed is 20 mph, assisted or unassisted and regardless of e-bike class

Helmets required under age 14
Governors Island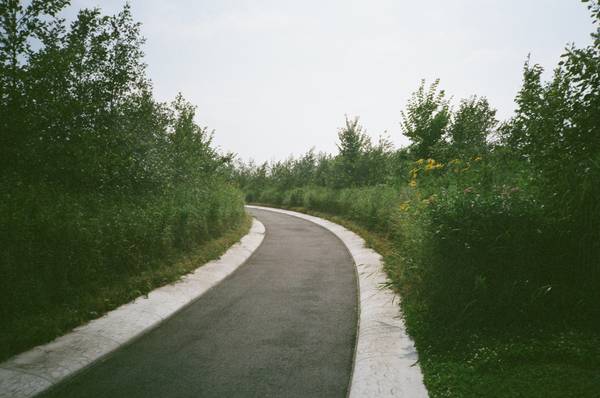 No cars, no traffic! E-bikes can ride peacefully on Governors Island. Image Source: Unsplash
Why We Love It
Accessible only by ferry, this 172-acre car-free island is an incredible place to explore on your e-bike.
This urban forest includes parks, gardens, and historic buildings to explore. Enjoy a relaxing ride free of traffic as you see all that Governors Island has to offer.
When to Visit
The island is open all year round, with regular ferry service daily.
Which E-Bike Classes Are Allowed?
Only pedal-assist e-bikes are allowed on Governors Island. So, disable or remove your throttle if your e-bike has one.
Throttles are found on Class 2 e-bikes, though some Class 3 e-bikes also have them.
Are E-Bikes Legal In NYC?
NYC has some e-bike laws specific to the city:
Class 3 e-bikes must use a maximum assisted speed of 25 mph, instead of the typical 28 mph (see our post E-Bike Classes, Explained)

NYC is the only place in New York State where Class 3 e-bikes are allowed
There's also a statewide rule to be mindful of (see our post E-Bikes New York for more state info):
E-bike riders can't use any roads with speed limits higher than 30 mph
For more on e-bike laws around the nation, check out our post about e-bike regulations by state.
Do I Need a Driver's License For E-Bikes In NYC?
There are no requirements for a license, registration, or insurance for e-bikes in New York City.
E-bikes don't need a driver's license to share the road in NYC. Image Source: Unsplash
Are There E-Bike Incentive Programs In New York City?
There have been a handful of incentive programs throughout New York State, and most of them have included (or been exclusive to) NYC.
While these programs come and go quickly, it seems like a safe bet that there will be more e-bike incentive programs popping up in the city.
To learn more, check out our post all about e-bike incentives, including links to resources with the latest info on programs near you.
Where Can I Find Magnum Bikes In NYC?
Over 250 authorized dealers and flagship stores around the United States carry Magnum Bikes.
New York State features nearly 20 stores and counting that stock Magnum Bikes.
In NYC proper, you can find us at dealers in Brooklyn, Chelsea, Queens, and the Upper West Side. We're also in stores in many surrounding areas.
See our full list of Magnum Authorized Dealers in New York.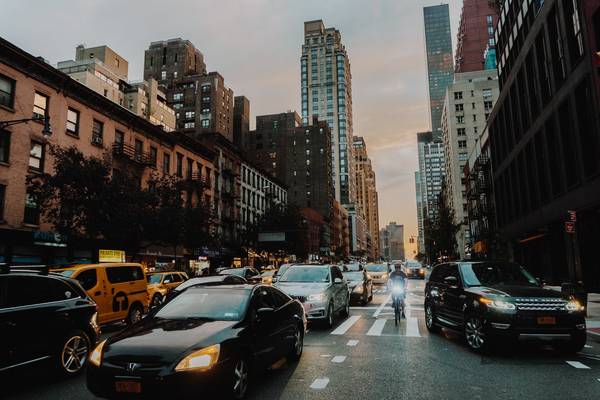 This rider has their lights on for safety in the city. Image Source: Unsplash
E-Bikes NYC FAQs
Here are some common questions about electric bikes in New York City.
Can You Ride An Electric Bike On The Sidewalk In NYC?
No — you can't ride your e-bike on the sidewalk in New York City. You're welcome to park your e-bike on bike racks on the sidewalk, though.
Do E-Bikes Get Stolen In NYC?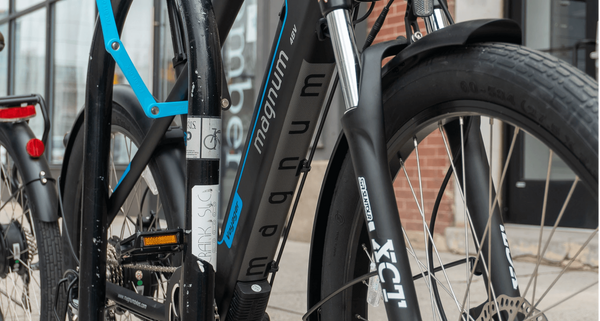 Unfortunately, yes — bike theft is common in New York, and it increased 27% during the COVID-19 pandemic. What's more, high-value e-bikes are often a target.
Check out our post on e-bike theft prevention for information on how to protect your e-bike!
Are Electric Bikes Allowed In NYC Bike Lanes?
All 3 e-bike classes are allowed in bike lanes in New York City.
Which NYC e-bike route will you ride next?