E-Bikes San Francisco: Where Can I Ride?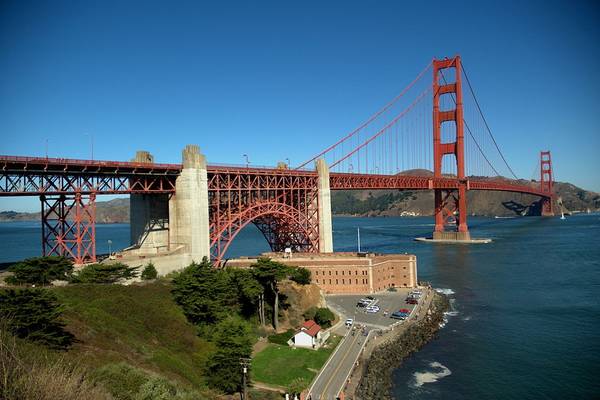 Why We Love It
A former U.S. Army post, the Presidio is now a national park with historic sites, restaurants, recreation, museums, and even housing!
Although it's a national park, there is no entrance fee to visit the Presidio. (Admission fees may apply for museums and other onsite activities.)
The Loop is a 4.6-mile blend of mixed-use paths (bikes and pedestrians) as well as on-road bike lanes. You'll pass the Visitor's Center and enjoy incredible views of the Bay and Golden Gate Bridge.
You can even ride your e-bike across the Golden Gate Bridge! (It does get very windy and cold, so plan ahead.)


When To Visit
The park and the Loop are open all year round, 24 hours a day.
If you're hoping to visit any of the onsite amenities, plan your visit during regular business hours.
Which E-Bike Classes Are Allowed?
Although the Presidio is a national park, e-bikes are welcome throughout the Presidio!
Although we didn't find specific info for the Presidio, Class 3 e-bikes are typically prohibited from bike paths in California unless otherwise noted.
So, we recommend sticking to Class 1 and Class 2 when you visit.
Golden Gate Park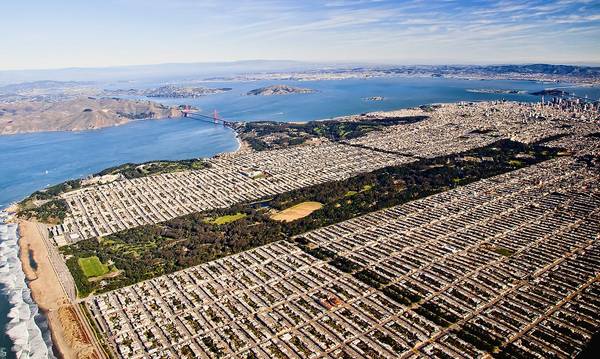 Did you know? Golden Gate Park is bigger than NYC's Central Park! Image Source: Flickr
Why We Love It
Despite its name, Golden Gate Park isn't actually the site of the Golden Gate Bridge! If you're looking for that adventure, scroll back up to our first recommended e-bike destination — the Presidio Loop Trail.
The majority of the park is carless, designed for bikes and pedestrians. That means it's easy to get to every corner of the park by e-bike!
At over 1,000 acres (20% larger than Central Park!), there's something for everyone at this park. Visit:
Gardens & conservatories

Museums

Woodlands

Ocean Beach

Athletic fields

A ferris wheel

And even a bison enclosure!
When To Visit
Golden Gate Park is open to the public 24 hours a day all year.
But be sure to check the hours of any museums or other sites you hope to visit while you're here!
Which E-Bike Classes Are Allowed?
Although Golden Gate Park doesn't list class restrictions, it's best to stick to Class 1 and Class 2 e-bikes while visiting the park.
That's because Class 3 e-bikes are typically prohibited from California bike paths unless otherwise noted.
The Wiggle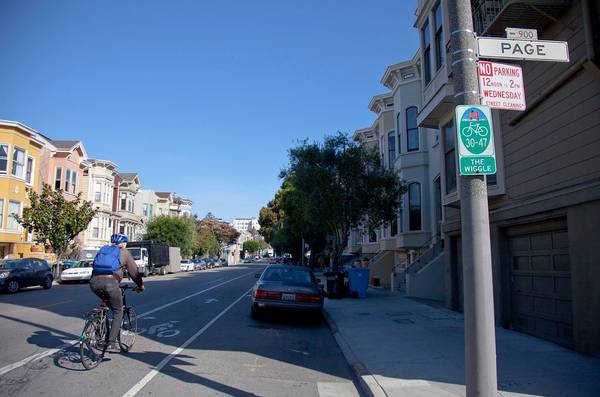 The Wiggle bike route is popular enough to have street signage! Image Source: Flickr
Why We Love It
While it's not a long route (about 1 mile), The Wiggle is a San Francisco biking staple.
In fact, if you're heading to Golden Gate Park (above), The Wiggle is a great way to get there from Market Street in downtown SF — without major hills!
Yes, it's possible! You'll only climb about 120 feet in elevation on this route, with an average 3% incline and no streets exceeding a 6% grade.
But it's not a straight line — you'll have to wiggle your way through some side streets. Head from Market Street to Duboce Avenue and then follow the signs!
Caution: you will cross street car tracks, which can be hazardous for e-bike riders and bicyclists as your tires may get caught. When in doubt, dismount!
When To Visit
Since The Wiggle is made up of a series of always-open streets, you can ride this route any time of year!
Which E-Bike Classes Are Allowed?
The Wiggle is a street-based route. That means no e-bike class restrictions!
Class 1, 2, and 3 are welcome.
Are E-Bikes Legal In San Francisco?
In San Francisco, e-bikes are subject to the same laws recognized across the state of California.
Here's what you should know:
E-bikes must follow the same rules of the road as regular bicycles, and e-bike riders have the same rights

Helmets are required for all Class 3 e-bike riders

Riders under age 16 cannot operate Class 3 e-bikes

State park trails are typically restricted to Class 1 e-bikes only

California has a unique roadway classification system to be aware of; check out our post E-Bikes California for more information
For more on local e-bike laws, check out our post What Are My Local E-Bike Regulations?
Do I Need a Driver's License For E-Bikes In San Francisco?
Nope. Neither San Francisco nor the state of California requires a driver's license for e-bikes.
You also don't need registration or insurance.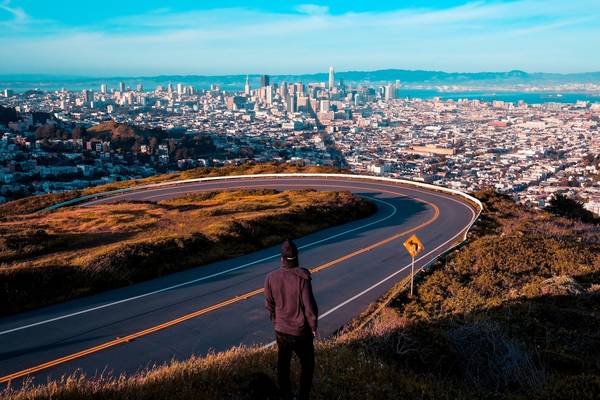 When you ride an e-bike, no driver's license is required for this unbeatable Twin Peaks view. Image Source: Unsplash
Are There E-Bike Incentive Programs In San Francisco?
The City of San Francisco ran a pilot program giving away free e-bikes to delivery workers in the city. The State of California has also sponsored e-bike incentive programs in the past, along with other regions within the state.
E-bike incentive programs are usually capped by a time limit, number of e-bikes, or financial cap, so they aren't open for very long.
Read our post about electric bike incentives to learn more and find resources for programs near you.
Where Can I Find Magnum Bikes In San Francisco?
We have more than 250 authorized Magnum dealers and flagship stores across the country.
In California alone, we have about 25 stores ready to get you on a Magnum Bike. There are several in the Bay Area, including San Francisco.
See our full list of Magnum Authorized Dealers in California.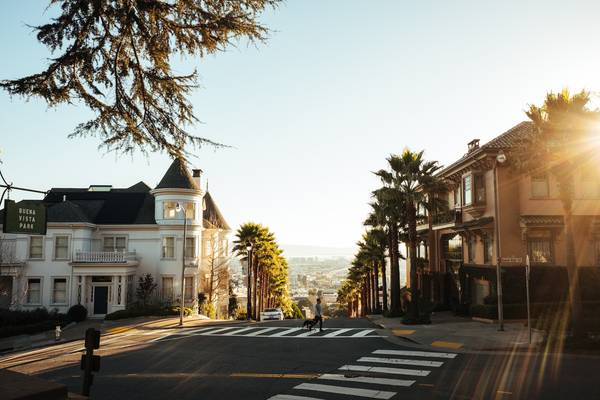 San Francisco isn't all hills — but having an e-bike definitely helps. Image Source: Unsplash
E-Bikes San Francisco FAQs
Here's what riders like you want to know about electric bikes in San Francisco.
Are E-Bikes Allowed On San Francisco Bay Trail?
Yes … but it's complicated!
The San Francisco Bay Trail runs about 500 miles through all 9 Bay Area counties.
Each county and city are allowed to adopt their own e-bike policies.
For example, Midpen (much of San Mateo and Santa Clara counties) doesn't allow e-bikes on most trails, and has posted "No Electric Bikes" signs in applicable areas, including on the Bay Trail.
We recommend researching your exact route along this extensive trail before bringing your e-bike.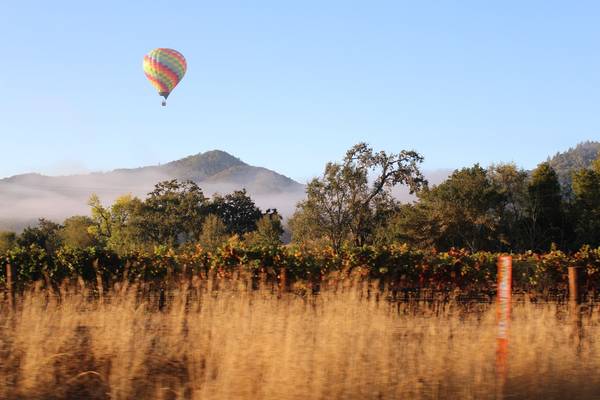 You can get to Napa on the San Francisco Bay Trail. Image Source: Unsplash
Are E-Bikes Allowed In Golden Gate Park?
Yes! In fact, large portions of Golden Gate Park are carless, making it an incredible destination for e-bike enthusiasts.
And there are lots of great e-bike routes to get to Golden Gate Park, including The Wiggle, a winding route from Market Street in Downtown!
Can You Ride An Electric Bike On The Sidewalk In California?
If you can ride a regular bicycle on the sidewalk in your city in California, you may be able to ride your e-bike there, too.
However, the laws are highly localized and fairly murky.
Keep an eye out for posted signs, and stick to bike paths and bike lanes where possible.
Where will your San Francisco e-bike adventure take you?