E-Bikes Texas: Where Can I Ride?
What Are The Best E-Bike Trails And Parks In Texas?
In many parts of Texas, e-bikes may be restricted to roadway use only.
This can take you to many incredible places, but multi-use paths offer a different perspective!
Here are some great trails that do allow e-bikes in Texas.
Mission Reach Trail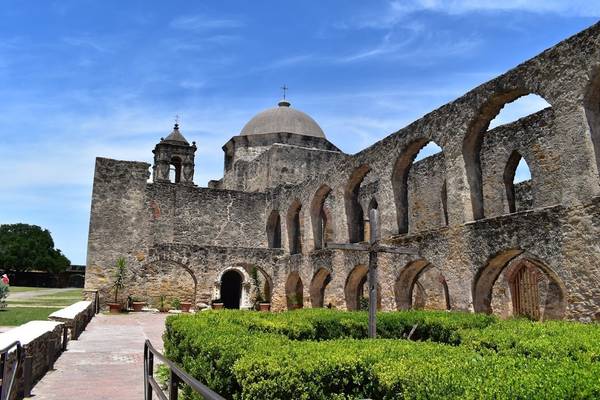 The San Antonio River Walk affords opportunities to see many historic missions, like this. Grab your e-bike and see them all! Image Source: Wikimedia Commons
Why We Love It
Over 16 miles of trail make Mission Reach an incredible way to see the historic missions of San Antonio — and the natural beauty of the area.
Part of the San Antonio River Walk, the Mission Reach section emphasizes the natural beauty of the area. You'll be surrounded by local Texas grasses and wildflowers, thanks to a well-preserved urban ecosystem.
Amenities include water, restrooms, trail access, and scenic viewpoints.
When To Visit
Mission Reach is open dawn to dusk year-round. But be cautious of the summer heat!
Temperatures can rise quickly as morning turns to afternoon. And high temps exceed 100 degrees on many summer days in San Antonio.
Bring plenty of water and sun gear, and plan a morning visit to avoid the highest temps.
Which E-Bike Classes Are Allowed?
We didn't find any e-bike class restrictions for Mission Reach. But, e-bike riders and cyclists must obey the rules of the road.
Observe all posted signs, including speed limit signs.
Always yield to pedestrians and dismount where required.
Ann and Roy Butler Hike and Bike Trail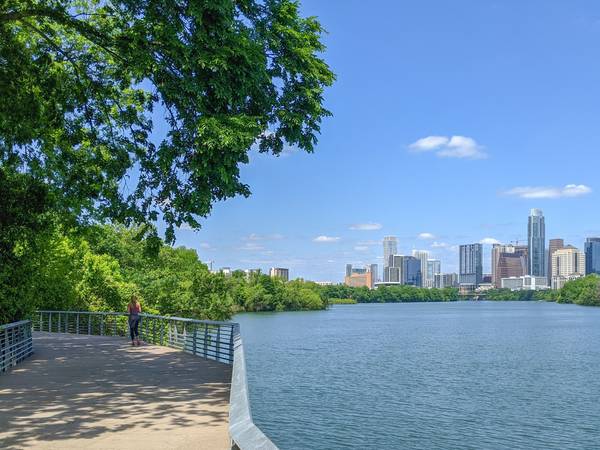 Along with joggers, e-bikes are also welcome on the Ann and Roy Butler Hike and Bike Trail in Austin, Texas. Image Source: Unsplash
Why We Love It
This beautiful Austin, TX trail was part of an experiment for expanded e-bike access in Austin — and it was a success!
The Ann and Roy Butler Trail is a 10-mile loop surrounding Lady Bird Lake, including lakeside access and room to explore 200 acres of recreational area.
A destination for wildlife fans, there are over 230 species of animals in the area. In particular, it's home to an incredibly diverse array of fish and birds.
And with 10 parking lots and even more options for metered and on-street parking, it's easy to access, even if you're not within biking distance to the trail.
When To Visit
The trail is open 24 hours a day all year round, with one exception: the Boardwalk section is closed from midnight to 5am daily.


Which E-Bike Classes Are Allowed?
There are no class restrictions posted, but e-bikes must observe a 10 mph speed limit on this trail.
Since pedal assistance and your throttle can boost you up to speeds of 20 mph (Class 1 and Class 2) or 28 mph (Class 3), keep an eye on the speedometer on your display at all times.
Brays Bayou Greenway Trail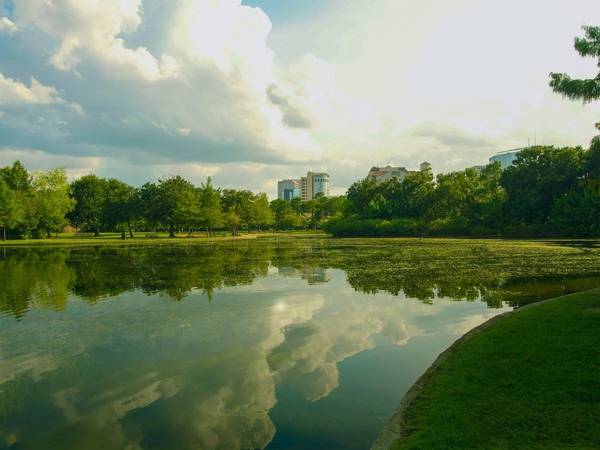 Hermann Park is home to the Houston Zoo, and it's one of many incredible stops near the Brays Bayou Trail. Image Source: Unsplash
Why We Love It
Over 30 miles of greenspace and trails run through Brays Bayou Greenway in Houston, connecting you to some of Houston's best sights.
Hit several parks or stop for golf at Gus Wortham Golf Course. You'll pass plenty of public art along the way!
Nearby are the Houston Zoo, the Museum District, and the stadiums.
It's an incredible way to see Houston!
When To Visit
The Brays Bayou Greenway is open 24/7/365!
Which E-Bike Classes Are Allowed?
There are no class restrictions on the Brays Bayou Greenway.
E-bikes are allowed on any paved trail where regular bicycles are allowed!
Just be sure to observe any posted signs, such as speed limits.
Are E-Bikes Legal In Texas?
Electric bikes are definitely legal in Texas.
Texas recognizes the standard 3-class system for e-bikes and has relatively few restrictions. Here's what to know:
E-bikes are typically allowed anywhere that bicycles are allowed, including multi-use trails — but check locally before you go

Anywhere bicyclists are required to wear helmets, e-bike riders are, too

Riders under age 15 can't operate Class 3 e-bikes (assisted speeds up to 28 mph)

In state parks, e-bikes are only permitted on motorized trails
Do I Need a Driver's License For E-Bikes In Texas?
No. Texas doesn't require a license, registration, or insurance for electric bike riders.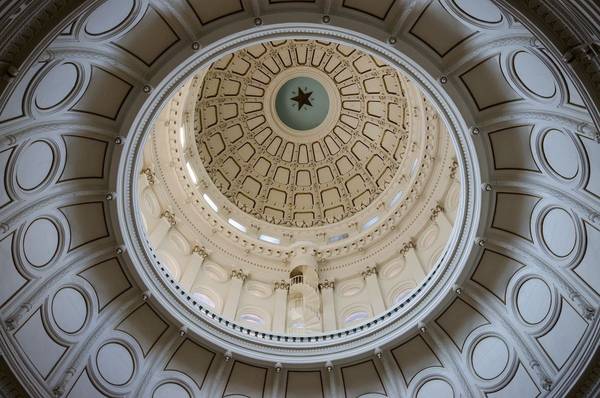 Texas doesn't have many restrictions on e-bike usage, making it a great place to ride. Image Source: Unsplash
Are There E-Bike Incentive Programs In Texas?
The city of Austin, TX created a subsidy program for e-bike purchases in 2021. That marked the state's first e-bike incentive program.
We hope there are many more to come!
Incentive programs open and close regularly, so the latest info is always changing. Read our article all about this topic for resources showing electric bike incentives near you.
Where Can I Find Magnum Bikes In Texas?
We've partnered with several authorized dealers in Texas to carry Magnum Bikes.
These stores are part of our network of more than 250 authorized dealers and flagship stores all across the US.
Check out our complete list of Magnum Authorized Dealers in Texas.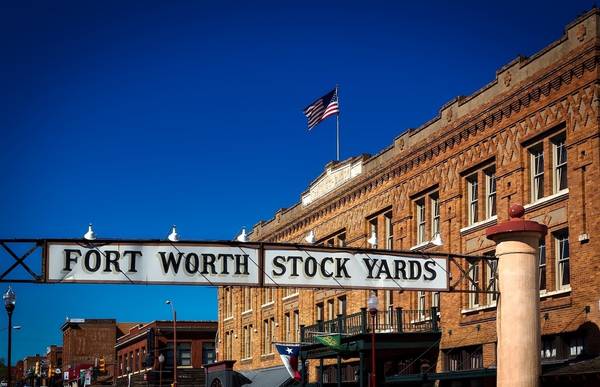 Fort Worth is just one of the cities in Texas where you can find authorized dealers selling Magnum Bikes. Image Source: PxHere
E-Bikes Texas FAQs
You've got questions about riding e-bikes in Texas! Here are the answers to some common queries.
Are Class 3 E-Bikes Legal In Texas?
Yes! But Class 3 riders must be at least 15 years old.
E-bike speed limits are also common on multi-use trails, so you may not get to max out your speed (up to 28 mph of assisted speed on Class 3 e-bikes) unless you're riding on the road.
Can You Ride An Electric Bike On The Sidewalk In Texas?
No — e-bikes are prohibited from sidewalks in Texas, and in many other states.
Stick to roadways, bike paths that allow e-bikes, and multi-use trails that allow e-bikes.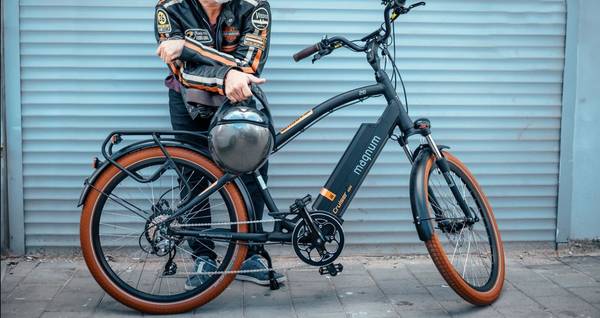 On the sidewalks in Texas, you can lean — but you can't ride your e-bike. Pictured: Magnum Cruiser
Are E-Bikes Allowed On Texas State Park Trails?
While e-bikes are allowed in Texas State Parks, e-bike riders are typically restricted to motorized roadways within the parks.
Most multi-use and bike trails in Texas State Parks are for regular bicycles only.
Ready to hit the road on your e-bike?