Buying An Electric Bike: Which E-Bike Category Is Right For Me?
Shopping for an e-bike can be overwhelming! Even after you decide you want an electric bike instead of a traditional bike, you then need to consider what types of rides you take in everyday life, the frame styles that suit you and your rides best, what type of pedal assist system you're looking for, and so much more.
In this post, we'll focus on the different categories of e-bike: what rides they're each best for, examples of Magnum e-bikes in each category, and what to expect from each.
And at the end, we'll share resources to help you with all the other considerations you might have when buying an e-bike, beyond just the category!
What Are The Different Categories Of Electric Bikes?
Narrowing your focus to the 1-2 best electric bike categories for you will get you a lot closer to choosing your perfect e-bike.
Let's start by giving an overview of the main categories of electric assist bikes.
Touring Electric Bikes
For riders who wish they could combine the best of mountain bikes and commuter bikes into one powerful model, we give you: Touring bikes!
"Touring" is a common term in the bike industry, but what does it mean? It's another term for long-distance biking — think road-tripping or sightseeing, but with an e-bike. E-bikes in this category are designed to truly go the distance, providing a versatile experience no matter your route — including camping and riding the trails like these Magnum riders.
Magnum's Touring e-bikes are our most popular models due to their versatility. The standard 26" front and rear wheel size make it easy to change out your city bike tires for knobby tires perfect for hitting the trails.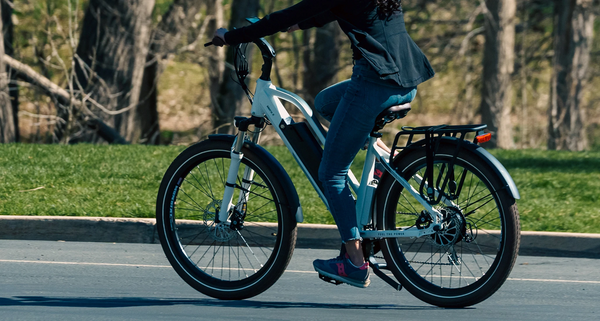 Cruiser Electric Bikes
Cruisers are the ideal category for a casual ride. The relaxed bike geometry prioritizes comfort; when riding one, you lean back slightly. This positions the pedals out in front of you instead of directly underneath.
And the comfort doesn't stop there: cruisers are known for their large, cozy seats. Think of a racing bike saddle as a stool, and a cruiser bike saddle as your favorite armchair.
Magnum's Cruiser category also features e-bikes with wide tires for easy control and balance throughout your ride.
Overall, they're a great choice for those who like to take it easy, including riders like the Shanklin family.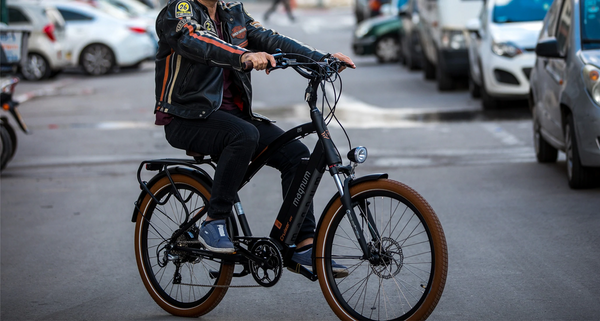 Fat Tire Electric Bikes
Fat Tire e-bikes take the comfortable ride of a wide-tire Cruiser and add serious performance.
Our Magnum Fat Tire e-bikes conquer challenging terrains like sandy trails, muddy roads, rocky paths, rough pavement, and even snow-covered paths. An emphasis on sturdy construction adds to the rugged build of this e-bike category: you can ride these bikes just about anywhere.
Check out how a team of friends put a Fat Tire e-bike, the Magnum Nomad, to the ultimate cross-country test with Jordan Moon, The American Runner.
Mountain Electric Bikes
Adventure-seekers: this is the category for you! Magnum Mountain e-bikes are designed for a reliable off-road experience with premium maneuverability and rugged front suspension.
As for performance on hills, well, that's what puts the "mountain" in "mountain bike." These e-bikes are built to power up short, steep climbs as well as grueling long-distance elevation gains.
See how one rider conquered rides he never thought possible, all thanks to his Mountain e-bike, the Magnum Peak.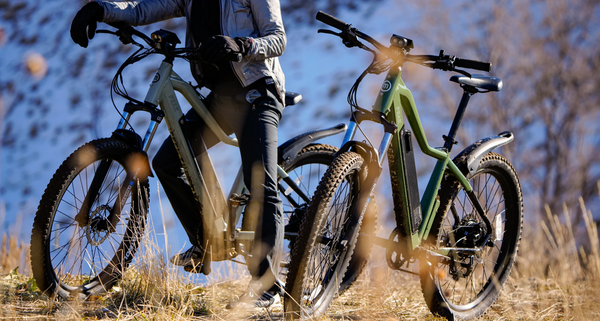 Folding Electric Bikes
It's true: e-bikes can take up a lot of space. So when you don't have that much space to work with — living in an apartment, traveling in an RV, or riding public transit — you may wonder if e-bikes are even an option for you. Enter Magnum Folding e-bikes!
You get a comfortable and stable riding experience with the compact and adjustable benefits of a collapsible folding frame.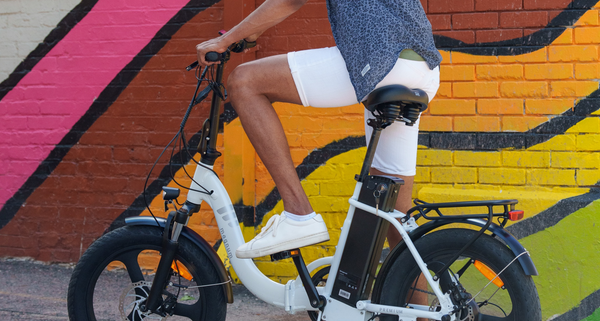 The Magnum Premium 3 Low Step folding e-bike lets you ride where you want — and store it where you want, too. Browse our Folding E-Bikes collection.
Cargo Electric Bikes
Do you deliver or transport goods for work? Shuttle your small children to and fro? Go grocery shopping on your e-bike? Or maybe you go camping on the weekends, traveling exclusively by e-bike. For any of these uses and more, Cargo e-bikes are a fantastic choice.
Boasting larger batteries (providing increased power and longer range) and impressively sized rear carriers, Cargo models like our Magnum Payload are built to carry whatever you need to haul.
See how one teacher used his versatile Cargo e-bike for commuting and farmer's market hauls — all while inspiring his students along the way.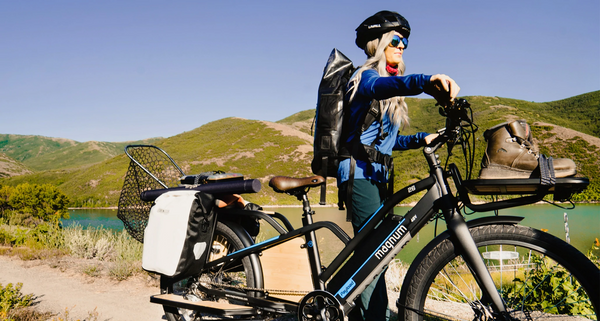 Not sure what you want yet? No problem. In the next section, we'll compare each category side-by-side so you can choose what's most important to you.
Magnum Electric Bike Categories, Compared
Check out how each e-bike category stacks up.



Touring

Cruiser

Fat Tire

Mountain

Cargo

Min. Rider Height (feet/inches)

5'0" - 5'5"

5'3" - 5'5"

4'10" - 5'5"

5'4"

5'0"

5'5"

Max. Load (lbs.)


265 - 330

300 - 330

265 - 330

300 - 330

330

400

Ideal for Casual City Rides


Y

Y

Y

Y

(though not designed for this purpose)




Y

Y

Ideal for Commutes


Y

Y

Y

Y

(though not designed for this purpose)




Y

Y

(especially with heavy loads)



Ideal for Trail / Off-Road Rides


Y

N

Y

Y

(made for this purpose)




N (paved/light trails ok)




N

Available Brake Types


Hydraulic, Mechanical

Hydraulic

Hydraulic, Mechanical

Hydraulic

Hydraulic

Hydraulic

Available Battery Capacities (Amp-Hours)


10-20Ah

15-21Ah

13-21Ah

13-17.5Ah

15Ah

21Ah

Available Wheel Sizes


26"

26"

20"

26"


26"

27.5"

29"


20"

26"

Available Step Heights


Low, Mid, High

Mid, High

Low, Mid, High

High

Mid
What Is Important When Buying An Electric Bike? Other Common Topics
Once you've figured out the category of e-bike you want, there are still a lot of other variables between different bike manufacturers and models. You have lots of choices to make about your motor and battery, frame style, and more.
Here are a few guides we put together to help you with those decisions: