Riding 33,000 Miles Is Anything But Lazy — Dave Marshall's Story
I've now ridden 265 different trails in 27 states and am always ready for more! I've ridden [my e-bike] from as far south as Florida, as far west as California, as far north as New York, and as far east as the Atlantic Ocean.
Who do you picture when you hear about those adventures? Maybe a 20-something doing some exploring between college and starting their career, or a 40-something athlete with the travel bug? Well, this rider might just change your expectations of who can conquer that kind of distance.
I am 68 years old and have had a stroke, a knee replacement, a complete shoulder replacement, and underwent radiation treatment for prostate cancer.
That's right — the person who's taken their e-bike all across the country is 68 years old. His name is Dave Marshall.
After retiring, Dave knew he needed a new hobby. And it didn't take long to find one he was passionate about.
"Since 2013 when I retired, I have ridden over 33,000 miles," Dave calculates. "My longest ride is only 53 miles. I could go further but with my health history, I'd rather not push it. I just love the freedom and tranquility of riding!"
Dave's health history is what led him to discover e-bikes. He picked up a used bike as part of rehabilitation after his knee replacement. While it helped, over time Dave noticed increasing limitations that began to hinder his rides.
"I found myself riding less, avoiding trails with hills, and not riding on windy days," Dave recalls.
But he wasn't ready to give up. Dave just needed to find a bike that could match his enthusiasm for riding and provide the support he needed to ride farther. So when Dave first test-rode a Magnum Cruiser electric bike — while on vacation, no less! — it was love at first ride. He quickly bought a Cruiser of his own, which has given him a new lease on his riding life.
It was a game changer. I tried out six different brands and it was a no-brainer to buy the Magnum Cruiser. It was sturdy and had all the features I wanted: a good battery, a throttle, and six pedal assist levels. Its pedal assist gives me the extra boost when I need it and the six assist levels allow me to easily conquer any obstacle or nature hurdles. It gives my knee a great workout and also challenges my shoulder as I balance and maneuver it.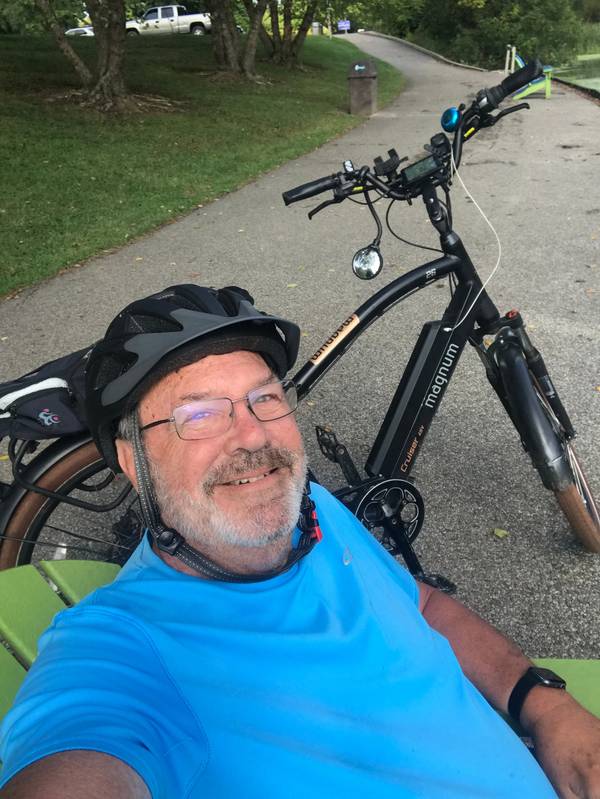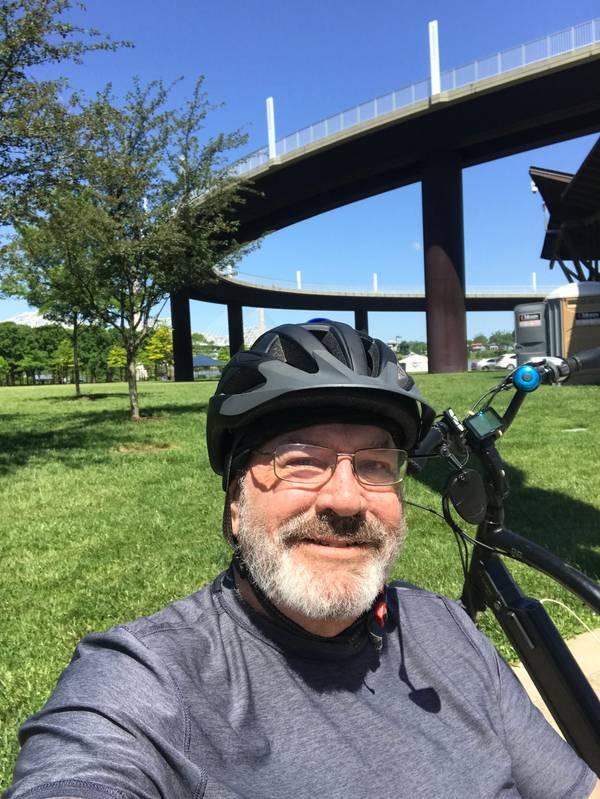 Dave and his e-bike hitting the trails.
How much of a workout can you get on an e-bike? As Dave knows well, it's all about what you put into it.
"Many people think that having a battery on the bike means that I don't get any exercise," he muses. "Nothing could be further from the truth! I usually ride in PAS 1 or 2 and only use the throttle to start from a dead stop. I no longer avoid hills and just put it in the highest gear and PAS 5 or 6 and can tackle anything!"
The comfort and ease Dave has found on his Magnum Cruiser has helped him get back out there and ride as much as he wants to.
"I ride 4-5 times a week and average about 25 miles and 13 mph. I could not have approached those numbers without my Magnum bike!"
And Dave isn't just riding around the neighborhood. His Cruiser actually helps him conquer interstate adventures.
"I only ride on Rails To Trails paths or Greenways that don't have cars. I'm not willing to risk sharing the road with a car or truck," he shares. "But] I live in Kentucky, and we don't have very many of those kinds of trails. Being so close to Ohio, Tennessee, Indiana, Missouri, and Illinois, I began taking 2- to 3-day trips to ride new trails. I was hooked after my first trip!"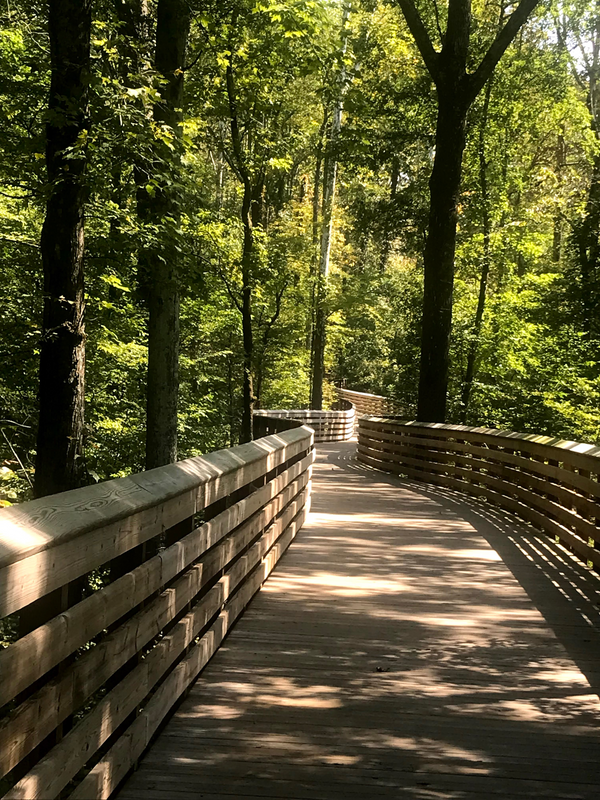 Just some of the beautiful scenery that Dave has had access to, thanks to his Magnum Cruiser.
With a sturdy bike rack mounted to his car, Dave is able to travel to nearby states while saving his biking energy for the trails.
I usually leave home around 6 AM and can be in Atlanta, Detroit, or Virginia by late morning and head out for a ride. I'll check in to the hotel at about 4:00, take a nap, charge my battery, have some dinner, and head back out for a twilight ride, enjoying sunsets along the way! I recently bought a spare battery for some of my longer trails and that has opened up even MORE possibilities!
Dave has favorite trails all over the country. It's the adventure and beautiful scenery that keep him coming back for more.
"I ride alone 97% of the time and don't worry about speed or distance but love the adventure, the beauty of nature, and the allure of Americana!"
One of Dave's favorite trails is New River Trail in Virginia — part of a 57-mile park that runs along an abandoned railroad and the trail's namesake river. There are tunnels, bridges, and trestles throughout the park, which offers 5 loops and 7 unique trails for hikers, horseback riders, bicyclists, and e-bicyclists.
Dave also loves the 150-mile historic Great Allegheny Passage (GAP) in Pennsylvania, the 2% grade Silver Comet Trail in Georgia, and many more throughout the Midwest and Southern United States.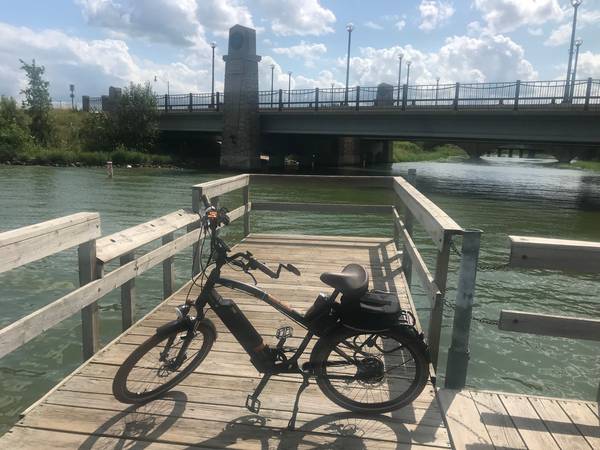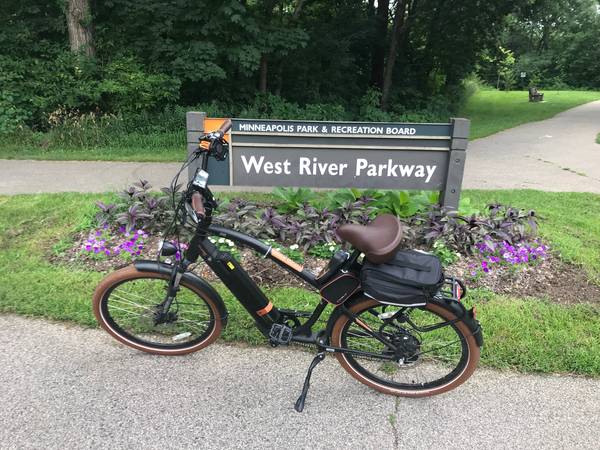 Dave's Magnum Cruiser posing for pictures on their adventures.
Dave's travels are an inspiration to us at Magnum Bikes. He's a reminder that age and health may be factors in your ride, but they don't need to be barriers.
Still deciding between a traditional bike and an e-bike? Dave has some advice that might help:
For some unknown reason there seem to be a lot of bicycling 'purists' who look down their nose at people on e-bikes….calling them 'cheaters' and 'lazy.' Don't let them deter you with their narrow-minded judgmentalism! Get out there and pedal and have a great time!
We admire your determination, Dave! We'll see you on the trails.
All photos courtesy of Dave Marshall.