E-Bikes Michigan: Where Can I Ride?
Marquette Harbor Lighthouse is just one of the amazing landmarks you can see during your e-bike adventure along Michigan's Iron Ore Heritage Trail. Image Source: Unsplash
Why We Love It
Michigan's historic Iron Ore Heritage Trail is a 47-mile multi-use trail through Michigan's upper peninsula. Starting in Republic, MI on the west end of the trail and running northeast to the shores of Lake Superior, its easternmost point takes you to Chocolay Township.

Along the way, there are 9 major trailheads for access to hop on and off the trail, letting you customize your journey.
As an interpretive trail, there are ample opportunities to learn about the history of the iron ore mining industry and its impact on the state of Michigan and the US.
When To Visit
The trail is open year-round, with stretches of the trail designed specifically for winter activities including snowshoeing, skiing, snowmobiles, and more!
The entire trail is open to bicyclists and certain e-bikes (see the next section) but always ride with caution in snow and ice.
Which E-Bike Classes Are Allowed?
Only Class 1 e-bikes are allowed on the Iron Ore Heritage Trail.
Class 2 and Class 3 e-bikes are not permitted to use the trail.
Kal-Haven Trail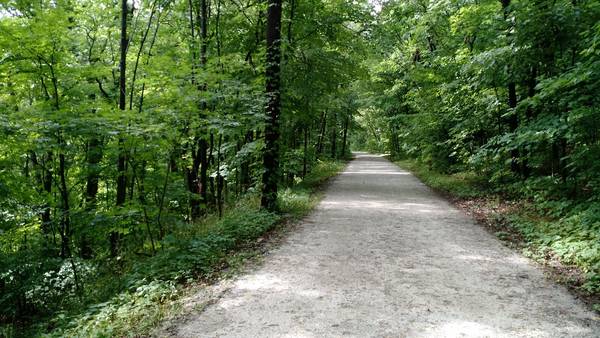 Surround yourself with natural beauty near the shores of Lake Michigan when you ride the Kal-Haven Trail. Image Source: Flickr
Why We Love It
Stretching 34 miles from Kalamazoo to South Haven (hence Kal-Haven), this is a can't-miss trail in southwest Michigan. It passes through several towns and villages, offering views of farms, flowers, wetlands, and Lake Michigan.
The multi-use trail is mostly limestone, with a few short paved sections. It's perfect for e-bikes as well as hikers and more.
There is some elevation gain if you're traveling east on the trail, but pedal assistance makes it an easy climb.
E-bike riders with throttles can join in the fun, too — with a permit! (See "Which E-Bike Classes Are Allowed" below.)
When To Visit
Kal-Haven Trail is designed for year-round use.
Our tips:
You'll catch incredibly colorful leaves if you go out on an autumn ride!
Or, head out in the spring or summer to view beautiful native wildflowers along the trail.
Which E-Bike Classes Are Allowed?
Without a permit, only Class 1 e-bikes are permitted on Kal-Haven Trail.
But Class 2 e-bike riders can obtain a permit by visiting the park office in South Haven.
Paint Creek Trail
Beautiful landscaping at Rochester Michigan Rotary Park near the Paint Creek Trail. Image Source: Wikimedia Commons
Why We Love It
Paint Creek Trail is less than 30 miles outside of Detroit. It runs from Rochester in the south end to the Village of Lake Orion in the north.
There are plenty of restaurants and markets along the way to stop for snacks!
The 8-foot width makes it a perfect multi-use trail for e-bike riders, bicyclists, and pedestrians to share.
At nearly 9 miles long, you can make an 18-mile ride out of your journey if you follow it out and back. The trail is almost completely made of packed limestone, with a small section of asphalt.
Plus, the Paint Creek Trail connects to the Polly Ann Trail, another e-bike-friendly path.
When To Visit
The trail is open year-round and displays all of Michigan's beautiful seasons with beautiful flowers, fall colors, snowy landscapes, and more.
If you choose to ride in the winter, be mindful of path conditions!
Which E-Bike Classes Are Allowed?
The Paint Creek Trail was a non-motorized rail trail from 1983 to 2018. Now, it appears both Class 1 and Class 2 e-bikes are allowed. Class 3 e-bikes are prohibited on this trail.
Are E-Bikes Legal In Michigan?
Yes! Michigan is a great state for e-bike riders. They recognize the 3-class system but have few restrictions.
Here is what you need to know
In Michigan, your e-bike must have a label accurately identifying which class it is

If the e-bike is altered in a way that changes its class, a new label is required

Class 3 e-bike riders ages 14-18 must wear a helmet

E-bike riders under age 14 cannot operate a Class 3 e-bike (but they can be a passenger if properly equipped)

Most multi-use paths and trails only allow Class 1 e-bikes (with local exceptions)

E-bikes are prohibited on Mackinac Island, including Mackinac Island State Park

However, those with a qualifying disability may operate Class 1 e-bikes on the island

We recommend checking Mackinac Island city code for up-to-date information
Do I Need a Driver's License For E-Bikes In Michigan?
Michigan doesn't require a license, registration, or insurance to operate e-bikes.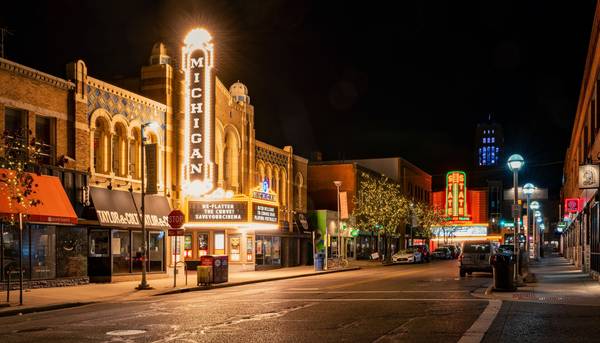 Ann Arbor at night. Image Source: Unsplash
Are There E-Bike Incentive Programs In Michigan?
As of this article's publication, Michigan is relatively new to incentive programs compared to other states. But since they've offered at least one such program to date, we hope that they have plans for more!
Electric bike incentive programs don't last forever. There's usually a maximum dollar amount, number of e-bikes, or time limit in place.
See more about e-bike incentive programs across America.
Where Can I Find Magnum Bikes In Michigan?
If you're in the market for a new e-bike in Michigan, we'd love to meet you.
Magnum Bikes can be found in more than 250 authorized dealers and flagship stores throughout the United States.
In Michigan, we have several dealers ready to schedule a test ride for you, from Ludington to Ann Arbor, and many more.
Visit any one of our Magnum Authorized Dealers in Michigan.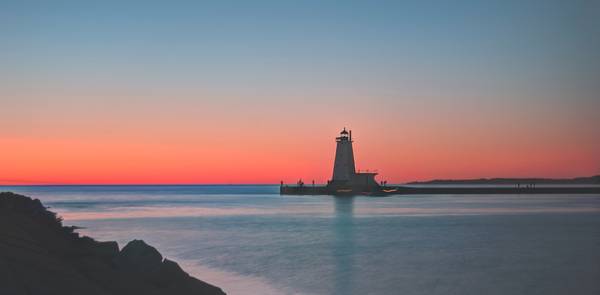 Ludington Pier at dusk. Ludington is just one of many towns with a Magnum Authorized Dealer across Michigan! Image Source: Unsplash
E-Bikes Michigan FAQs
Here are some common questions about electric bikes in Michigan.
Are E-Bikes Street Legal In Michigan?
You can ride your e-bike on any streets where regular bikes are allowed.
Just obey the road:
Your e-bike must have a label displaying its class (1, 2, or 3)

Class 3 e-bikes are typically only allowed in the road (not on multi-use trails or bike paths)

Class 3 riders ages 14-18 must wear a helmet
Are E-Bikes Allowed On Mackinac Island?
As of this article's writing, e-bikes are not allowed on Mackinac Island. This is part of the city's effort to preserve the historic and motor-free feel of the island — no automobiles are allowed there, either.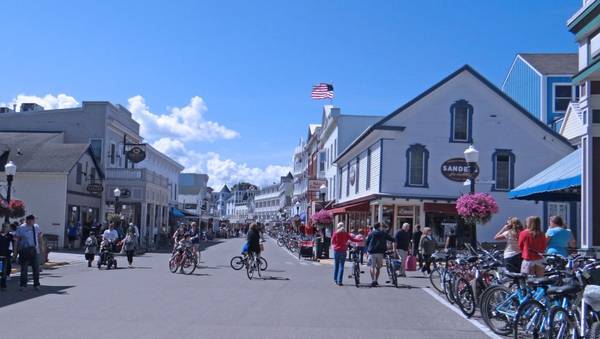 No cars are allowed on Mackinac Island! This makes it a great spot for bicyclists — but unfortunately, e-bikes are prohibited. Image Source: PxHere
But there is one exception: visitors with a qualifying mobility disability may operate a Class 1 e-bike (no throttle, max speed 20 mph).
Please consult Mackinac Island's city code for the latest information.
Are E-Bikes Allowed on Michigan Bike Trails?
Class 1 e-bikes are allowed on many bike trails, bike paths, and multi-use paths across Michigan.
However, it's best to check the rules of the specific Michigan bike trail you want to visit before you go.
Class 2 e-bikes may be allowed on certain trails with permits.
Class 3 e-bikes are typically prohibited from bike trails.
Where will your next Michigan ride take you?